There have been quite a few inquiries of exactly where we are.
SAN JUAN COSALA is a small little town between AJIJIC and JOCOTEPEC
These towns sit around Lake Chapala in the state of Jalisco, Mexico.
The lake we look over and the mountains we are sitting high up in are actually a dormant volcano.  When driving here from Guadalajara, we drive UP and through a mountain pass.  The lake is the crater.
Maybe a picture will help…
Where are we?  Look down and near coast you see Guadalajara.  See the blue lake?  That is Lake Chapala and we are on that lake.  The lake is 56 miles by 12 miles.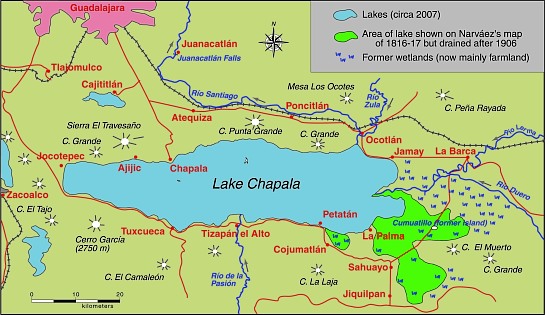 http://www.lakechapala.info/
Back to the country map.  You will see Colima.  Colima is the name of a Mexican state, it's capital city, and an active volcano. There are two peaks in the volcano complex -one is dormant and cool enough for snow and the other is hot.  We look forward to visiting there and finding out more.  Our casa is so high up in the mountain here that we can see the top of Colima -which is nearly a 3 hour drive away.  We'll keep you posted.
To the West on the map, you see Puerto Vallarta -that is about 4 hours  away.  We REALLY look forward to visiting there.  Who wants to come down and go with us?
Some confusion about the size of Mexico.  It's not small.  See the border town of Laredo/Nuevo Laredo?  That is 15 hours away.  (we know, we drove it)
Most all of Mexico is in the CENTRAL TIME ZONE.  For all you friends on the East Coast, we are just 1 hour behind.
Current Temperature

[wpws url="http://www.chapalaweather.net" selector="#table1 td:eq(2) font:eq(1)" user_agent="My Bot"]